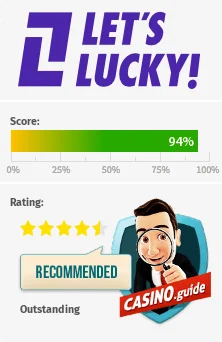 About Let's LuckyLicence:Curacao GamingOnline since:2022Welcome Bonus:C$ 4000Free Spins:300Visit Let's Lucky:Play now
As our online casino experts continue to scour the internet in search of new online casinos to review, it is harder and harder to find those that stand out from the competition. There are a lot of online casinos out there, and many of them are good, but it is rare to find one that answers to the full package demands of today's discerning players.
Enter Let's Lucky, or LetsLucky casino, if you will. While it is not 100% clear how the casino prefers to spell its own name, with various permutation found throughout the site, one thing is for certain, and that is that this operator knows what good online gambling is about.
We did not reach this conclusion lightly mind you. Rather, as is our way, we methodically worked our way through every single section, link, and button to ensure that this site performs up to our demanding standards. And what we can say is that it not only meets industry requirements, it goes well above and beyond. It has got a great welcome package available in both fiat as much as crypto currencies like Bitcoin, quick cash out terms, lots of great games, and plenty of other promotions to keep you entertained and in extra money throughout your journey there.
So while we cannot say where luck will land with the roll of each virtual dice or each slots spin, what we can say is that luck plays no factor here in terms of good gaming. That is, this is an excellent online casino website that is designed to provide safe, high quality, real money gambling plus entertainment. But keep reading for our full review for details of what makes it so great.
4-part welcome bonus – also available for crypto depositsExcellent promo calendarAttractive designThousands of casino gamesWide range of payment optionsLimits on how much you can withdraw at a timeOnly 5 cryptos currently accepted

MoreLess
🚨 Attn. to the Max Bet Rule – 8 CAD per spin (5 EUR/USD; 8 AUD /NZD; 50 NOK, 430 RUB, 440 INR; 85 ZAR; 20 PLN; 0.000095 BTC; 5 USDT). The max bet limit includes bets doubling after a game round has been completed and bonus rounds (purchased within the game).
Let's Lucky Casino Payment Options: 
Detailed LetsLucky Casino Report
Having made its debut in 2022, Let's Lucky is a relative newcomer to the iGaming space. But like we said, as professional casino reviewers, we always have our eyes open in search of new "winners", and Let's Lucky quickly made a positive impression, such that we deemed it worthy of our review process.

Sometimes, needless to say, first impressions don't last. But here we can say, we were actually pleasantly surprised to find that there is even more than we realized – with LetsLucky delivering plenty of awesomeness on all fronts from the welcome bonus package through its customer support.
As you can see in this at-a-glance report card, it got very impressive results across the board.
If that is enough for you (and we would agree) you can already go over and give Let's Lucky a try. If there is something more, however, that you would like to explore, feel free to click on your area of interest under the 'More details' column. Or keep reading through to our final conclusion, summarized at the end of this extensive review.
1.) Let's Lucky Casino Games
Following that nice little summary, let us begin with a more in-depth view into this casino's games. When we say that, we mean a couple of things – as the following are the elements both players themselves, as well as us as professional reviewers want to ascertain.

So one, is the question of game categories. Like does it have enough selection of slots or roulette games? And two, continuing on the variety theme, does it have such categories from numerous providers, and who are those providers anyhow?
To begin with, yes, Let's Lucky has an excellent selection of online casino games across all of the categories that we care about. Actually, as true casino lovers, we care about them all, and fortunately they can all be found here from slots, to video poker, to blackjack, baccarat, and more.
If you look in the main lobby, the tabs may be a bit different than what you are used to seeing, with sections labelled
Discover,
Slots,
Table Games,
Fast Games, and
All Games
respectively. If you scroll down from that same view, you can also see useful categories like
Popular,
New Games, and
Recommended
to help you find titles of appeal. There is obviously a certain amount of overlap between many of those categories, but each can be useful to look through and find games of interest you may have yet to play. Or if you have a particular game in mind from the get go, you can of course, always use the website's search bar which delivers accurate results.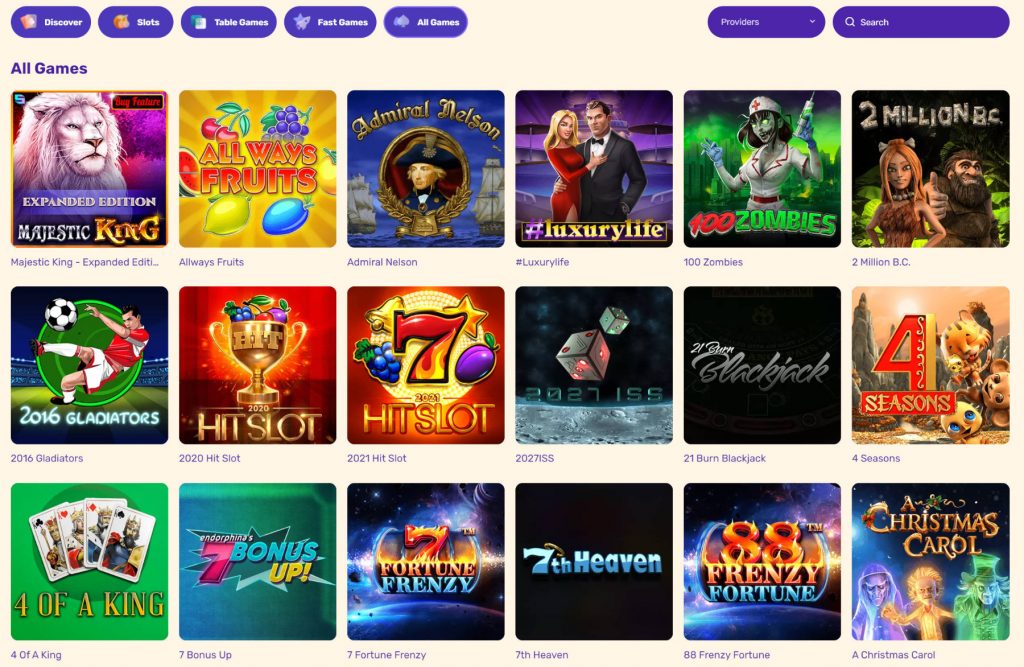 MoreLess
As for the providers, like any self-respecting online casino this decade, it has dozens of them in its lineup. This in large part is what helps deliver the variety demanded in today's competitive iGaming space. NetEnt, Microgaming, Red Tiger, Betsoft, Pragmatic Play, and Playtech are all there amongst the bigger names. And there are lots of other smaller developers (who from our experience are actually gaining more footing these days as well) like 1X2 Gaming, Tom Horn, Gaming, Swintt, and many more.
Let's Lucky Casino Software Overview

As a tip, while our preferred mode of play is real money bets, since we are into actual gambling, you can play free slots, free roulette, and the likes here if you prefer. Or for a few starter rounds if you please.
Let's Lucky Online Slots
After a history so rich, and so many years around, it is hard to find anything new to say about online slots. While different graphics used to be the big excitement, followed by new ways to activate paylines and bonus rounds, this is all stuff we now expect. And we are not even sure it is possible for a developer to present anything less.
Still, we cannot write a slots review without at least addressing the matter. So suffice it to say that Let's Lucky has an excellent selection of online video slots in all of their many styles, themes, and varieties. A few examples you ask? Let it Spin is great for Santa lovers feeling festive, Golden Dragon Inferno is always hot, and Buffalo Trail ideal for the adventurous out there.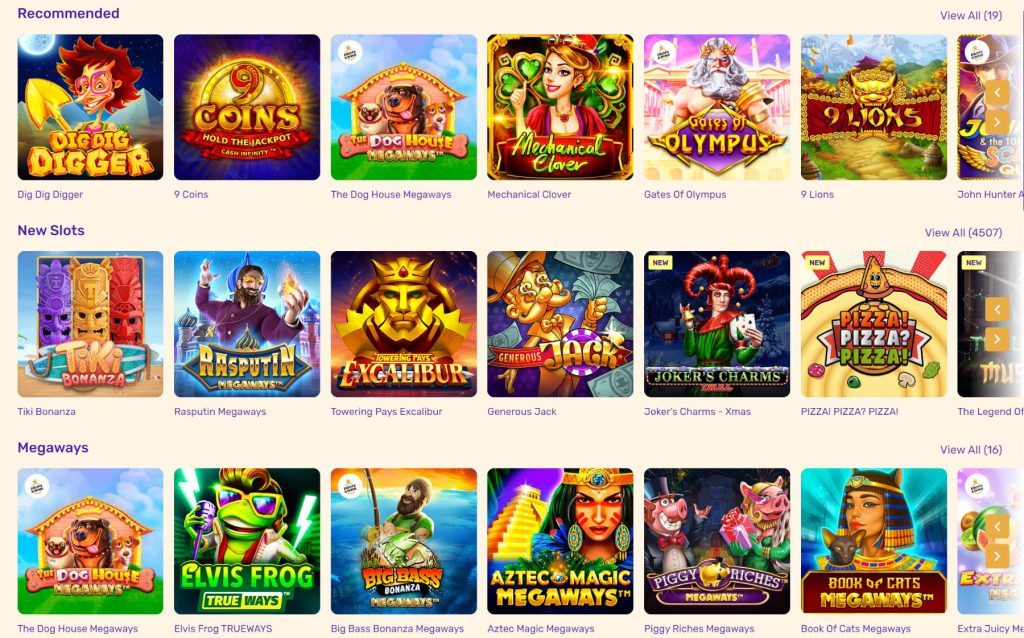 MoreLess
For a slightly different, or one might say potentially more winning spin, you can also try the nice selection of Megaways slots or the special section dedicated to Bonus Buy slots. And like we mentioned, if you are having a hard time choosing, you can always opt for free slots play and narrow your choices down there to find what you really love.
Lets Lucky Casino Jackpot Games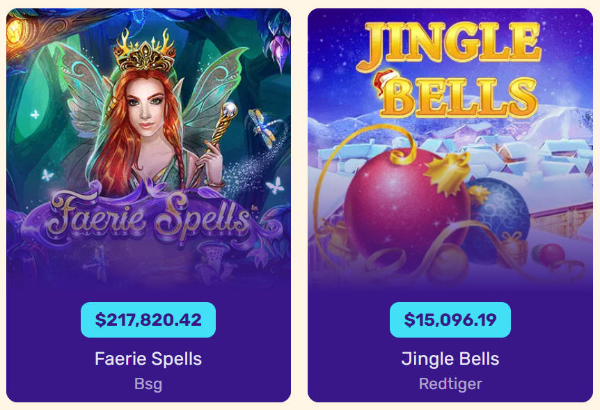 The other option on the slots front, of course, is the jackpot games. Here there are plenty of options. And some feature prizes, at last check around the $250,000 mark.
Now reasonably speaking, such a windfall would be exceptionally exciting to win. However, if you have been around the virtual block, you like us know, that this is not the top of the game. And so if we were to state any one lacking here, it would be that. Where oh where are those mega jackpot games? LetsLucky management, if you are listening, we would love to see more of the progressive jackpots that could potentially make us instant millionaires. Thanks!
Let's Lucky Casino Table and Card Games
While admittedly the online slots get center billing pretty much everywhere you may look, the reality is, that there are other types of games that players like to play. And you may well be amongst them!
So if you are, know that there are plenty of those to enjoy here too with great options for all the card and table game classics like roulette, blackjack, and baccarat – all clearly laid out so that you can navigate and pick between them.

Plus, there is a section just for video poker which is not something that we see every day anymore – i.e. a throwback we really quite like.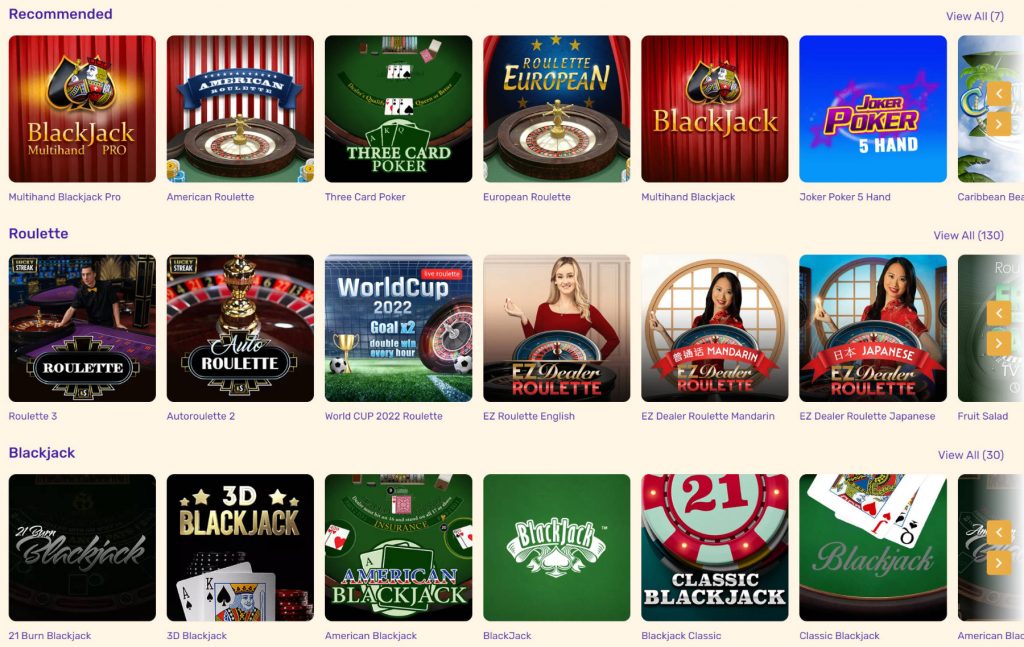 MoreLess
Original LetsLucky Crypto Games
Since LetsLucky accepts 5 different types of digital currencies as a payment method, it can technically be considered a crypto casino. And as you may, or may not know, many crypto casinos like to create their own versions of certain provably fair games like Crash or Mines.
Let's Lucky, as of the time of writing this review, however, has yet to come out with its own labelled games. But it does carry some of the crypto classics associated with the genre including Aviator, Space XY, Plinko, Heads & Tails, Minesweeper, and Rocket Dice, brought to us by different developers.
Other Types of Games
If all that we have listed thus far isn't enough for you, then wait for it. There is even more! These include things like online scratch card games, keno games, casual games, or video games (or whatever you would call them), to round out the full and fantastic catalog here.
Again, to find them, you can search by name or category (like type in the word scratch), or look under the 'All Games' tab and click around.
Let's Lucky Sports Betting

Finally under games, or more like as an aside, we will just point out that there is no Let's Lucky sportsbook at the moment. We know many online casinos do that sports sister site thing, but it is not happening here yet. Mind you, at the time of reviewing, Let's Lucky was super new, so it could well be in the development stages, which needless to say would be a welcome thing. Especially if the operator pulled it off quality-wise as incredibly well as it has done with the casino.
Back to TOC
2.) LetsLucky Live Casino
Does all this great gambling extend to the live casino you may then be wondering? And the answer, after what we saw based on the rest of the game offering, was unsurprisingly yes.
While most of the live games, admittedly are powered by industry leader Evolution Gaming, there are also some live versions of popular casino games from other providers like Pragmatic Play, Playtech, Ezugi, Authentic Gaming, and Lucky Streak. This is something we were particularly impressed to see, since live gaming is one of our favorite parts of any online casino experience. And it is not every operator that is smart enough to offer such an interesting mix.
That being said, just keep in mind, that not every single title will be available from every location. Still, we would say, you can't miss what you can't see. And you will see enough variety in terms of live roulette, live blackjack, and even live TV gameshows to keep you plenty entertained.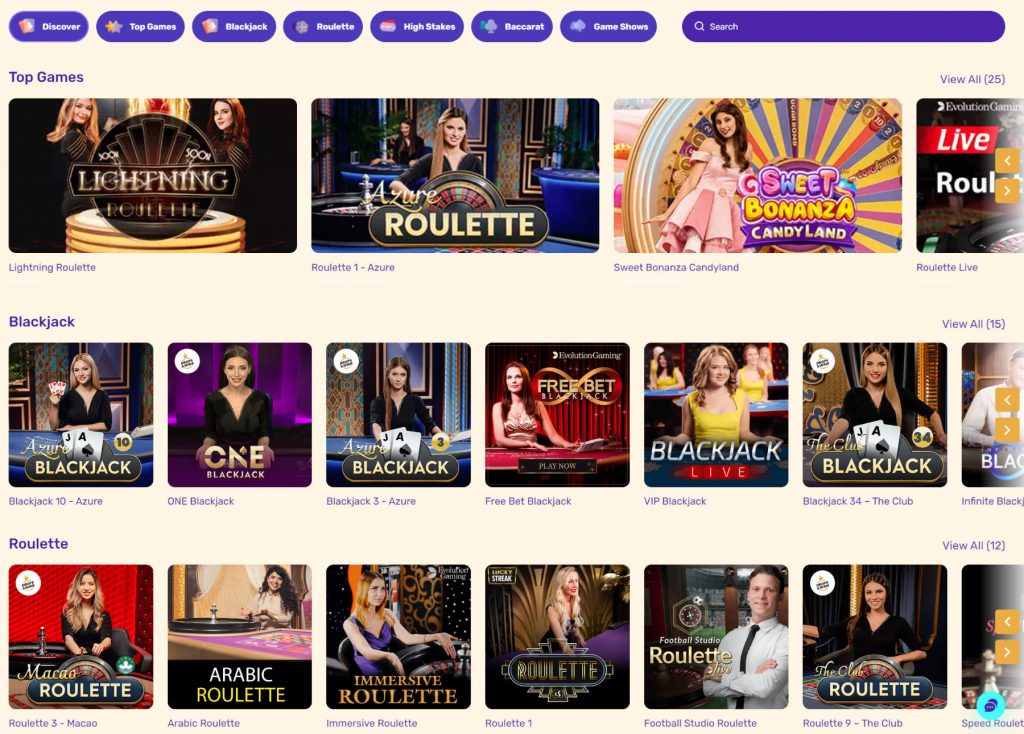 MoreLess
And since these are all standard games with all the technology in place to ensure good performance, plus excellent live hosts and all that, you should expect top-notch quality so long as your internet connection is strong. After all, in all fairness, live streaming is something that requires you to do the bare minimum on that end.
Though mind you, if you have internet issues in your home, live mobile games are an equally good option, so you can pop on over to anywhere that offers free WiFi to enjoy a few rounds.
Back to TOC
3.) Let's Lucky Casino Deposit & Cashout
With all those great games, it should be no problem finding what to play. And with so much variety, this is the type of place to stick around at for the long-term. That is, if the banking is right. In other words, if you can't bank easily, it all wouldn't be worth much. But here, at LetsLucky, there is no need to worry, as the banking is super easy, and we would go so far as to say, extremely user friendly.
How so? Well, first of all, Let's Lucky casino is very flexible in terms of the currencies it accepts. In fact, it puts its money where its mouth is in terms of setting itself up as an international gambling hotspot, by accepting transactions in a huge number of fiat currencies covering: EUR, USD, CAD, AUD, NOK, RUB, NZD, INR, ZAR, PLN, CHF, CNY, NGN, BRL, and KZT.

For those who are more interested in crypto gambling it also offers a handful of options being BTC, ETH, BCH, XRP, and USDT. True, there are casinos with more choice for crypto deposits out there, but since there are also so many fiats accepted at LetsLucky, we think it has struck a good balance.
If, by the way, you are going the fiat route, note that Let's Lucky is also quite convenient in terms of the payment methods it works with covering a really nice range of credit cards, e-wallet services, and other formats – i.e. it should be no problem to find one that works well for you.
All Accepted Payment Methods at Lets Lucky
* Note, the above values are given in CAD, unless otherwise specified. The exact same amounts are valid for EUR transactions as well. For other currencies, the amount will generally be the same, relative to the exchange rate. Additional payment methods may be available in different locations.
Making a Deposit at Let's Lucky Online
The chart above is a great overview of everything you need to know about LetsLucky banking. But we understand that there are some casino review readers who like a more extensive walkthrough. So let's go through it.


Basically, everything here is really easy, and happens in the exact order you would expect. Create a casino account, fund that account with a deposit in order to have a balance to play with, gamble freely, and withdraw when you have some winnings.
In other words in order to make a deposit, as you can imagine, you will need to first register a LetsLucky account. To do so, you will need to click on the link on the website and fill in the form that pops up with the few requested personal details. They are a username, strong password, setting your currency, and a bit of an annoyance for those using a VPN, a local phone number is required.
As for the actual deposit steps, they look exactly as you would expect.
Step 1: Log in to your Let's Lucky casino account.
Step 2: Click on the yellow 'DEPOSIT' button, which you can see in the left-hand navigation bar.
Step 3: Choose the deposit method you want to use – This is done by clicking on the relevant icon displayed on the left side of the deposit popup box.
Step 4: Choose the amount you would like to deposit – Either by clicking one of the standard amounts shown, or typing a specific number in.
Step 5: Fill in the remaining fields that appear onscreen – This level of information will only be required for your first deposit per payment method.
Step 6: Click the deposit link at the bottom of the popup box to complete the transaction.
Like we mentioned above, but we will just reiterate it here, not all payment methods will be available in all locations. And, on the other hand, once you have created your casino account with a particular IP, say in Canada, you may find additional payment methods available, beyond the standard ones we have listed in the chart above (for example, we saw Jeton and Flexepin suddenly show up). So use the graph above only as general guidance.

Also, while the chart above is a useful indication, you will in no way need to memorize it to get your transaction amounts right. Let's Lucky is a service-oriented online casino, and as such, makes sure to have all the small touches that make a difference in place, including showing you things like the deposit limits clearly onscreen, for each payment method you click on.
Deposit Limits and Times
In general, for many years now, the arena of casino deposits has been extremely standardized. So you will have the same experience pretty much everywhere you play. And certainly at all reputable online casinos.
That means, on the deposit front you can and should expect instant transactions – which is what LetsLucky delivers. Of course, there can be slight delays for things like a Bitcoin deposit, which requires blockchain confirmations to complete. But these are typically quick and you can see your BTC in your casino balance within a matter of a few minutes. The same way you would with any blockchain transaction.
As for limits, we don't have much to say here either. The 20 CAD minimum is exactly within industry norms. And the upper range into the thousands is on the higher end, making LetsLucky comparatively strong in this realm. Actually, even better if you have chosen to deposit in a crypto like Ethereum or Bitcoin Cash, which have no upper limit at all, which is ideal for any high rolling players out there.
Let's Lucky Withdrawal Process


After making a deposit, we assume you will go on to play – actually you have to do some wagering (of 3X your deposit) to qualify for a withdrawal for legal reasons as you can imagine.
But once you have done that, and hopefully won a fair bit along the way, the question is just how complicated it will be.
And again, on this front, we are pleased to report, that it is as straightforward as we expected. Just follow the intuitive flow from the cashier and you are good to go – i.e. click withdraw, choose the method you'd like to use, enter the amount, and you're done.
Withdrawal Limits and Times
In terms of withdrawal limits there are unfortunately some. Especially for crypto winnings, we prefer to see no cap, as to us this is part of the beauty of crypto gambling. But alas, this is the case so we can only work with what is.
In all fairness, the limits are no different than industry standards, with a minimum withdrawal usually being around the C$30 range. The upper cap is mostly listed at C$6,000, but keep in mind this is the most you can cash out at one time / per day. There are also limits on how much you can withdraw per week being around C$12,000 and per month officially listed as C$42,000.
Should you be so lucky as to have won more, then the casino will set up a payout schedule in kind, to ensure that you do in fact get all your funds out. It may not happen quite as quickly as you would like, but it definitely will.
As for general timeframes, like if you simply want to withdraw $100, that should be instant with most payment methods, though as you would likely expect from prior banking experience, it may take a few days for something like a wire transfer.
How Easy Is it to Withdraw Winnings from the Let's Lucky Website?
We know we already answered this one in detailing the withdrawal process. But some people may be skimming this Let's Lucky review in search of this one important detail. And so here it is, written out in the most uncertain of terms.
Making a withdrawal from LetsLucky is easy. This is a licensed casino in it for the long game (i.e. intending to stick around) so it could not do anything that would jeopardize its integrity. As such, expect the withdrawal process to be smooth and easy, and if there are any delays, know that they will be rectified – even if it requires a little human, customer support touch, if you feel the need.
Can I Withdraw Money from Let's Lucky Casino without Account Verification?

Filling out forms and submitting documents needless to say can be a drag. There is no denying that. And we certainly agree. But there is also no getting around doing things right. And online casinos have account verification processes in place for various reasons, including preventing bonus abuse (which is legit) as much as payment fraud (which is good for you).
So while you may not love it, you will need, at some point, to provide the casino with the requested KYC documentation. In our opinion, it is better to get to this little technicality sooner rather than later, as it won't go away. And once you are done with it, withdrawals are even smoother sailing.
Let's Lucky Casino Banking Fees
As for banking fees, according to the casino's FAQ section in response to the query "Will I be charged any fees for making deposits and withdrawals" the answer is very reasonable.
When making a deposit, the casino will cover any potential transaction costs. On the way out (i.e. for withdrawals), the casino itself does not charge any banking fees. However, if your payment provider does have fees associated with each transaction, then the onus will be on you. Like we said, we think this is pretty reasonable and fair.
Back to TOC
4.) Let's Lucky Casino Welcome Bonus
One of the reasons online gamblers like to shop around, and even look for additional sites even if they are already happy with where they are playing, is the potential for another welcome bonus. Not all online casinos offer one these days, and it is far less common to find one at a crypto casino due to the volatile nature of such coins.

As such, we were needless to say very pleased to come across such a solid online casino with what can be described as no less than an excellent welcome package. Here you will be treated to a cash bonus, no matter which currency you are depositing in, with a total value of up to C$4,000 plus 300 free spins. No bonus code is required for your first deposit bonus, but you will need to enter one to claim the rest of the series.
To flush it out, if you are interested, the LetsLucky welcome offer looks like this:
First deposit = 100% up to C$500 + 100 free spins
Second deposit = 100% up to C$500 + 50 free spins (use the promo code LUCKY2)
Third deposit = 50% up to C$1000 + 50 free spins (use the promo code LUCKY3)
Fourth deposit = 25% up to C$2,000 + another 100 free spins (use the promo code LUCKY4)
The first two deposit bonuses are obviously the best ones, as it is always nice to get double your money and not just a percentage of it. But if you are depositing anyhow, then the 50% and even 25% extra funds are certainly a welcome addition.


While we quoted the bonus here in CAD, note that it is the exact same amount for euro deposits as well, and the same value for every other currency offered.
Although no promo code is required in order to claim the first welcome bonus, remember that you will still need to activate the free spins in the promo section of your account. So don't forget to do that, once you have deposited.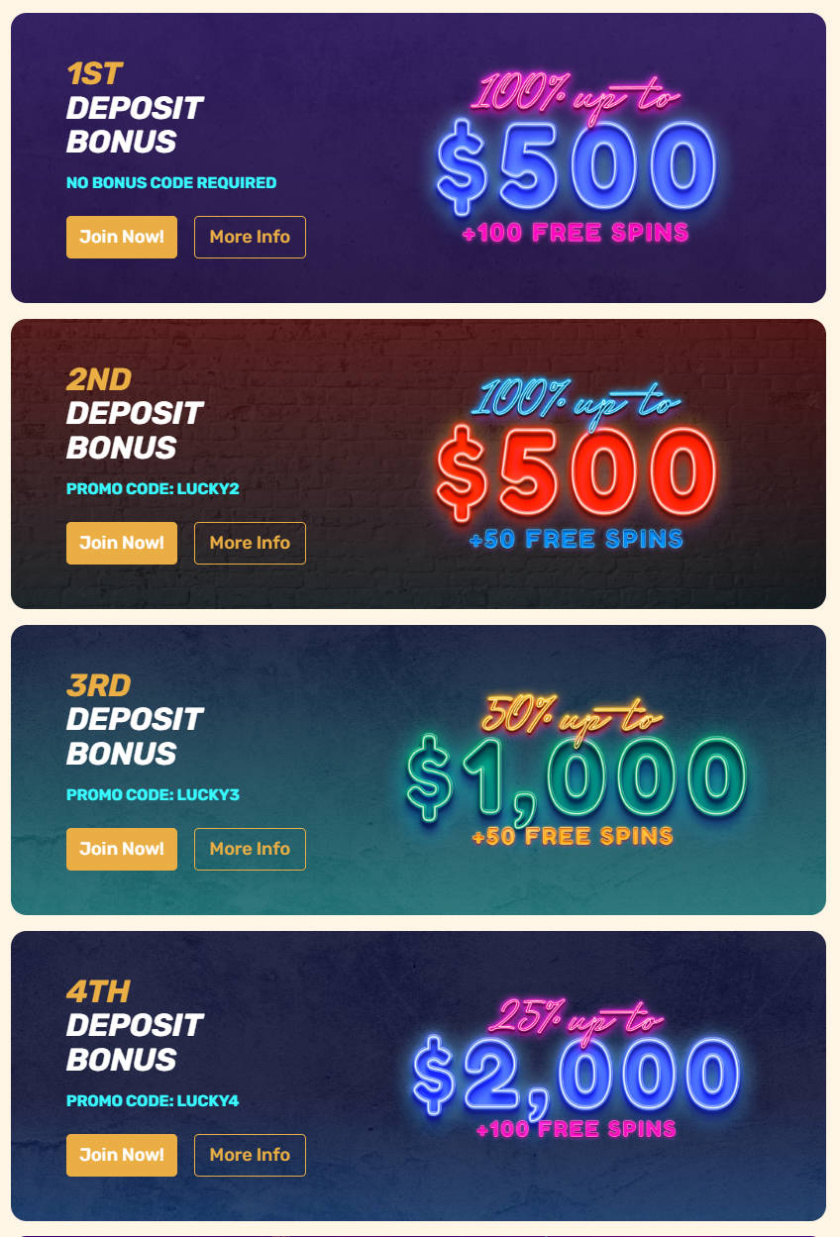 MoreLess
Speaking of free spins, in case you were wondering how they play out, we will tell you this. The first 100 free spins are all on the Lucky Lady Moon slots game, and can be spun at a rate of 20 a day over the course of 5 consecutive days, starting from the one on which you claimed them. The second deposit free spins are on Lucky Lady's Clover, the next batch of 50 on Safari Sam 2 slots, and the final 100 free spins (at least in terms of this promo package) are on Four Lucky Clovers.
If you are a high roller, by the way, you can get started with a special high roller first deposit offer that well rewards the gutsy from the get-go with a 125% bonus up to $2,500 plus 10% cash back up to $1,000.

MoreLess
This is indeed pretty awesome if you have the bankroll, but we certainly would not advise it for most players. Rather your best bet is probably to stick with the lower first deposit option, which compared to other online casinos is actually quite high.
As for the playthrough requirement, it is 40X for both the cash and free spin elements, which is very reasonable. Game contribution is also calculated fairly with 100% of slots bets contributing, 25% for roulette bets, 10% for card games, and so forth. In other words, it should not in any way be difficult to clear this bonus package in full. Hence you can claim it with comfort and confidence that it will be well worth your while.
Other Let's Lucky Casino Bonuses and Promotions
When it comes to online gambling, bonuses are not a matter of luck. At places like LetsLucky they are by design, with a lot of thought invested in how the casino can attract and retain players by giving them the types of freebies that they like.
As such, LetsLucky has a rich promo calendar packed with different types of offers, almost every day of the week, and certainly to mark special occasions like the major holidays.
A few examples you ask? Well there is the rather aptly named Let's Lunch promo held every weekday (i.e.  Monday through Friday) between 12:00 to 15:00 UTC. Make a deposit any time during those hours with the promo code LUNCH and the casino will dish out free spins based on your deposit – starting at 20 free spins with a C$30 deposit and up to 75 free spins if you go with C$100.
Magic Mondays are also pretty great with your chance to collect on a bonus of up to C$400, again depending here on the size of your deposit. In addition, you will find other regular features like Saturday Night Fever with an unlimited 30% bonus, Crazy Tuesdays, and Friday Happy Hour.
There is also a monthly reload bonus of 100% up to C$500 (promo code: MONTH), which lets you essentially relive the joy of your first deposit rewards on a regular basis.
On holidays like Christmas, you can expect special themed promos, like an advent giveaway game. And on Halloween or Easter, extra goodies, on theme, are also regular fare.
If you like tournaments, which we put in the promo category, then just click on the 'Tournaments' tab, and you will find all the awesome challenges taking place at any given time, with an eye on the future so you can prepare.


And, of course, since this casino has the whole player experience so well planned out, there is also a great VIP program too – this time themed according to various cities around the world – with the regular way of doing things. That is, place bets to earn points and climb the ladder to higher levels, and amongst other things, bigger cash bonus rewards.
Back to TOC
5.) Let's Lucky Casino Website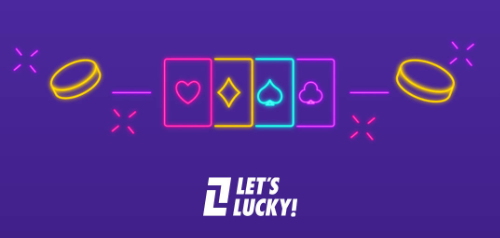 The first thing that is obvious when visiting Let's Lucky is that this is a retro casino site. Retro, obviously being relative, since online gambling only goes back so far. But it does incorporate a nice 70s or would that be 80s (?) vibe with its vibrant colors and touches of neon throughout.
Overall, the site is easy to use, with everything being clearly laid out. Realistically, most online casinos look more or less the same these days, like websites in general, as any decent programmer / graphic designer understands the UI demands to meet UX needs.
In this case, the main casino navigation is the left of the page, and deeper links at the bottom of the page.
What About Access in Other Countries Like Let's Lucky USA?
Whatever the official legal status is, there is no denying that there are many people in the US who want to gamble online. Or you may just be visiting there, and want access to your account.
So, let's put it this way. Officially, there are numerous restricted countries according to the site's T&Cs. More so, if you try and visit the casino from such a restricted country, you will not even be able to see the homepage. That is how strict Let's Lucky seems to be.
But, and here is the real catch, if you use a VPN like CyberGhost, Tunnel Bear, or NordVPN, you can just as easily place your IP elsewhere, and poof, the site will appear.


With the VPN on, you can not only see the website, but you can register an account, and gamble online. Just remember this is not something that the casino approves of, so be careful when providing further personal details, especially as it may affect your ability to withdraw (or not).
Let's Lucky Community

As for a casino community, a concept that has somewhat taken off at crypto casinos in particular, there is none here as far as we have found. The reality is, however, while some players may like the chat factor, for a little banter as they bet, we have never found it all that useful. But if you do, you can always do a bit of chatting in the live casino games, which do have interactivity in the form of chat built in, as part of the live experience.
Back to TOC
6.) Let's Lucky Mobile Casino App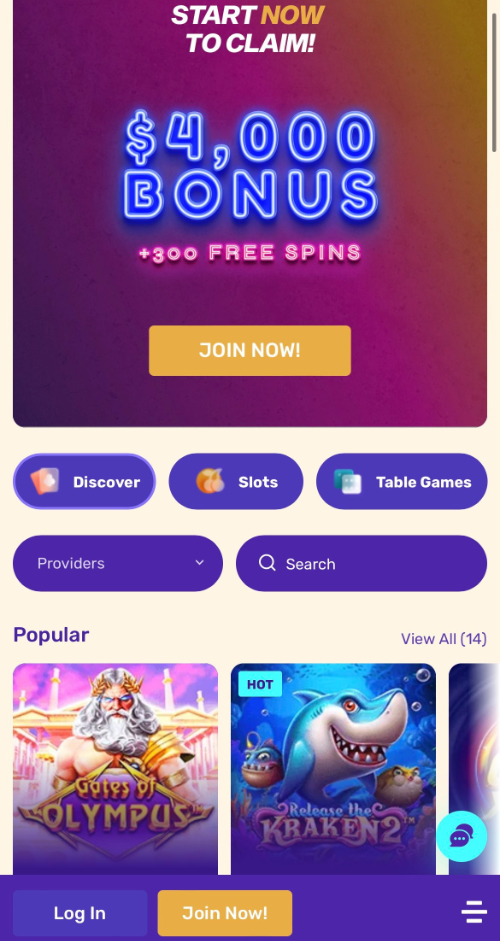 Since we are all glued to our cellphones these days, it is reasonable to assume that if you are looking for an online casino, you are looking for one that is particularly well optimized for mobile play too.
You may be thinking casino app, mind, you. But as you may have noticed (or not if you are newer to online gambling), there aren't really any real money gambling apps around these days. So we will save you the bother of searching where you can download such an app, and already tell you that there is none to find.
Instead, you can have a perfectly great time playing at LetsLucky on any mobile browser, on any hand-held device, and on any operating system like Windows, iOS, or Android.
Since this is the same instant play version of the casino that you would access from your PC, you will find all of the same games, bonuses, payment options, and access to support. The only difference, you might say is a positive one, in that an awesome mobile casino site means extra convenience for even more gambling fun.
Back to TOC
7.) Let's Lucky Casino Customer Support
Speaking of support, you may have noticed we have gotten this far in the LetsLucky review without too much of a mention. Well here we are, and this is what we have to say.
How to Get in Touch with the Let's Lucky Casino Support Team:
As you can see, LetsLucky gives you all the expected ways to get in touch with any compliments, questions, or even complaints you may have.

The support service is truly available 24/7 as advertised, which we can tell you for certain as we tested it rather extensively, shooting out live chats at all hours of the night and day to see how long it would take to respond. While there are times that such chats aren't answered immediately, that means like a one or two minute wait time max.
If you are looking at the site, by the way, and wondering where this live chat function is, just turn your attention to the lower right corner of your screen, where you will see those little speech bubbles, and click.
Should you prefer sending an email you can always do that to the address [email protected]. Or if you want to simply fill in the web form, you can find it by clicking on the 'Support' link from the bottom navigation on any page.
The only lacking you might say is a direct phone number, but really, when's the last time you bothered to call someone anyhow? We're kidding of course. But over the last number of years, we have come across maybe a handful of online casinos that still give out a phone number. So it's honestly not even something we are looking for or expecting any more.
In other words, in case that wasn't all 100% clear, you will find great, convenient, and always helpful support here.
Let's Lucky on Social Media
While the world of social media and its various platforms get a lot of attention, not everyone agrees in terms of their value. Sure many businesses maintain a strong Insta presence to highlight their activities, a Facebook profile where you can reach out with queries, or a Twitter account that gives you quick response abilities.
LetsLucky is not one such business, however, unless it is keeping it a closely guarded secret. But that's okay. Because really, the regular support avenues (of live chat and direct email) are always a better option. And the casino is great at keeping players up-to-date through various forms of messaging, so you don't need a Tweet to not miss out.
Back to TOC
8.) Is Let's Lucky a Serious Casino?
After getting this far in the review, it would be a pretty big bummer to discover we have anything other than positive things to say about the casino's safety and fairness. After all, these two things are in essence the building blocks of good gambling. And we can tell you this, for other reviews of ours you read, you can be sure we wouldn't even bother evaluating a casino that didn't meet basic standards.
But that description doesn't do LetsLucky justice, as this is an online casino that performs strongly on all those relevant fronts. What do we mean by that?
Well, first of all, it is of course fully licensed, in this case by the Government of Curacao which is considered one of the better bodies for authorizing and regulating eGaming. It also has a strict 18+ gambling policy, constant reminders built in to encourage you to gamble responsibly, and a Responsible Gambling section dedicated to helping you do so.
On the technical end, LetsLucky Casino is based on software certified by Itech Labs, an ISO/IEC 17025 compliant testing laboratory for online gaming systems. What this means is that the Random Number Generator (RNG) complies with industry standards and all results, on every single game, are random. It also determines compliance with industry standards for payouts from the various games of between 95% and 98%. That in other words is everything that can possibly be done to ensure fair gaming.
On the security side, it also has a strong privacy policy. And for financial security, SSL technology and the latest anti-fraud techniques.
The Expert Roundup on Lets Lucky Casino
All this sound promising to you? We agree, it is! LetsLucky is not an online casino that is great by chance. It is excellent by design, with a lot of thought clearly invested in the development process to deliver an excellent user experience every time.

While the website may have a throwback, retro feel, don't be fooled. This is an extremely modern online casino. It not only has thousands of online games, and a huge selection in the always enthralling live casino, but allows you to bet on any of these games in a wide range of fiat or crypto currencies.
The welcome bonus is extremely attractive, with lots of free cash and spins, and the follow up promos are equally good, which makes it a great place to call "home" at least in terms of your online gambling space.
Or in other words, our conclusion? A really great bet!
Author: Vienne Garcia
Last Update: 14. December 2022
Article reviewed: Let's Lucky
Author Rating: 94%
Let's Lucky test nowShow commentsHide comments